TOOTER APP FOR IOS AND ANDROID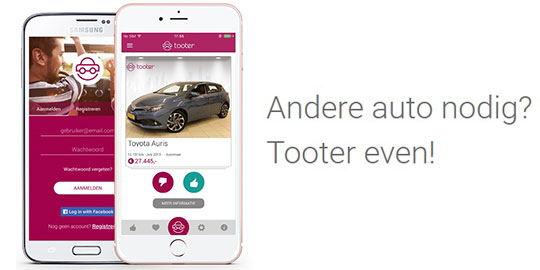 It was a fun and challenging project to build an app, for iPhone and Android, that searches nice cars easily and orderly. Our iOS, Android and .Net development teams worked hard to bring it to life and the result turned out to be great!
"Tinder for cars"
You can best describe Tooter as "Tinder for cars". Tooter allows users to fill their wishes and requirements in the App, based on which it provides the list of used and new cars. By swiping left or right, user can like or dislike the car. Tooter also learns from the user's swipe behaviors and thus makes for increasingly faster and more accurate matches. It builds the profiles and allows group of users to make the match even better.
Fun features
The Tooter App has several features that make it even more enjoyable to use, such as:
• Save selections on your phone and make "showroom"
• Selections via Facebook
• Contact dealers rapidly via e-mail or phone
• Use the route planner
Intelligent, self-learning matching system
The basis of Tooter is formed by an intelligent self-learning matching system. This has been made in such a way that it can be suitable for every market and every product.
Free download
Experience yourself to know how nice the Tooter is. Download the free app in the AppStore or Play Store.