TEAM IMAGE STUDIO'S REFRESHING OUTING TO OM ADHAYA RETREAT RESORT
Everyone needs a little break to recharge oneself. And on 1st of December 2018, Image Studio team members got a chance to participate in a memorable trip organized by the GO!. Out of 21 members 6 could not join due to their personal reasons.
On the day of the trip, all of us gathered at 10:30 in the morning at office premise, and headed towards the destination, Om Adhyay Retreat Resort, on a bus arranged by the resort. As the bus took to the roads, everyone got busy participating in fun conversations with each other. The whole team enjoyed each other's company and a road trip to the destination itself turned out to be very exciting and joyful.
Though we traveled 4 hrs to reach the destination, the excitement of the trip was still there among the members. Surrounded by beautiful hills, the resort was located close to an ancient market place in Thaha Municipality in Makwanpur District of Narayani Zone.
The resort welcomed us with delicious snacks and complementary drinks. After that, we checked into our rooms, and started getting ready for the BBQ party. That was when the fun really started. BBQ party with drinks, Antakksheri songs and dance, the whole environment was lit. Every one of us were fully entertained and the party went on for whole night.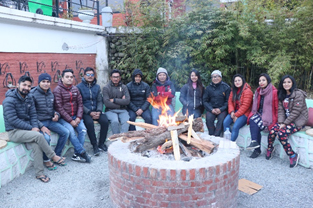 The next morning, all of us went on an adventurous hike. We walked for about 2 to 3 hours, exploring the beauty of Tistung village while also posing for our pictures. We also visited famous Bajrabarai temple.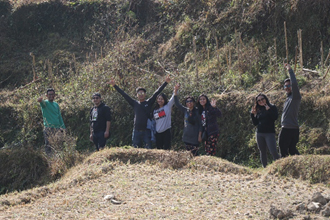 Finally, we concluded the stay at the resort after returning from the hike. The breakfast and lunch provided by the resort were decent. On our way back from the resort, we stopped at Markhu village for boating. Almost every one of us spent a calm time on a boat enjoying the scenery, and creating memories, which will never be forgotten.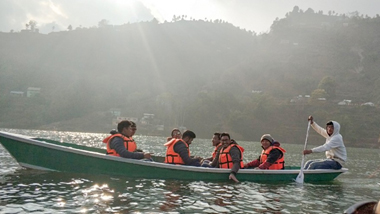 Everybody was happy being a part of the trip and we could see every individual putting full effort in everything we did. And we missed our colleagues who couldn't be part of outing in everything that we did and shared. The program brought the Image Studio team closer and further strengthened our bond. This was long awaited trip from the department and it was worth the wait.