GO! DAY OUT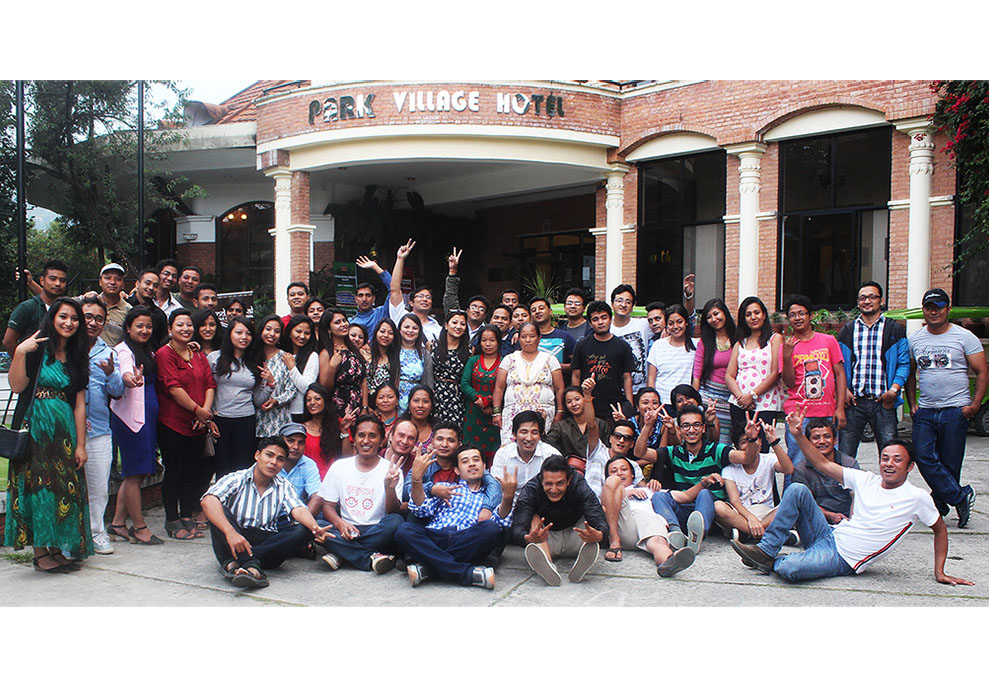 On a calm cloudy morning of September 26th 2015, the enthusiastic GO! family drove to Park Village Resort, situated just below Budhanilkantha, for a relaxed day-out. The day started inside the lush compound of the resort where everyone greeted each other with smiles and selfies. From the beginning, many were busy posing for pictures taken with flower adornments and water pools in the background. At that very moment, the already beautiful garden of the resort was lit up by the creative splendors of GO!.
The sun started to show, and the tranquil atmosphere slowly broke out with chitchats and laughter of the Grafians when they enjoyed the delightful lunch served by the resort. The food was great. Then after, the Grafians had the big green ground, which served drinks in one of the corners, as their new playground. The first episode was Tug-of-wars, which was played between two teams of women and the other two of men staffs separately. That rope-war was accompanied with claps, cheers and intensified laughter. However, it did not take much time for stronger sides to drag the opponents to ground before claiming the win. While it happened, few involved themselves in a five-a-side football game and few took themselves on to the stage to show their moves on musical beats.
The next episode merged music machine with a dance around the circle made out of chairs, the musical chair. Every time the music started, one of the chairs was taken out, disqualifying a participant when the music stopped. The end result of the game was unexpected. While many thought male participants, who looked like the clever ones would win, it turned out to be opposite. By the time the game reached final round, only female participants survived. And, finally the musical chair was won by our very own Shristi Shakya, Manager-Image Studio.
After that, in the final episode, the GO! staffs were divided into two groups for "Dumb charades". The teams tried their level best to make things difficult for their opponents. And the participant also tried hard to give his/her team clues through their notable acts, to get to the name of the movie. It was a fun filled game that saw many impossible acts, and few names of movies never heard.
With various games being played around, many also enjoyed sips of cold beer along with delicious snacks. Few enjoyed the view that the nature had to offer, and few became commentators of the game though not being directly involved. Overall, everybody was enjoying the moment. The day ended with a group photo of the whole GO! team.
The day was a complete fun package that will be cherished by many in days to come. While many moments of the day were captured by camera lens, there were many more memorable ones captured in the hearts, which will be remembered forever.